CEX.IO is from the first cryptocurrency exchanges. It started off in 2013 and in the beginning, the firm was also operating with GHash.io – the cloud mining service. When it was at its peak, it was controlling 42% of the Bitcoin hashing power. A bit later the value of crypto decreased and the firm decided to stop mining because it was no longer bringing profit.
The headquarters of CEX.IO are in London and the number of its users is around 2 million. Many choose to use it because of the great security that it offers and the easy methods for purchasing and selling different cryptocurrencies like Bitcoin, Ethereum, Bitcoin Cash, and many more. You are able to make a deposit via a credit card or a bank transfer.
Safety and Security of CEX.IO
If you look at the growing number of users and do a little research, you will be able to see that CEX.IO is very secure and safe. The company has adhered to the regulatory bodies and international laws which also attracts many customers. It is a Private Limited Company, based in the U.K, which is registered with FinCEN. CEX.IO is also compliant with the Payment Card Industry Security Standards Council and uses PCI DSS certificate. The company is registered with ICO of the UK.
The firm claims that it is using cold storage for the assets and they have never had any problems with hacking in the past.
You can also make sure that your account is safe by adding a 2-factor authentication. You are advised to do so right from the start and the website makes you check a box that says that you know the dangers of not using 2FA in case you refuse to activate it. It is a good idea to keep your funds away from the exchange or the online wallet.
How to Buy Cryptocurrency on CEX.IO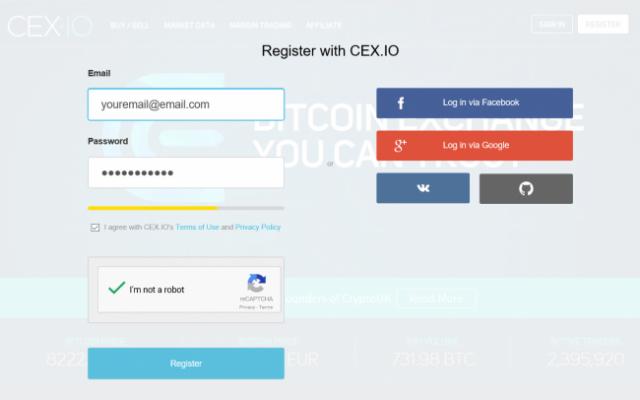 As a beginner, the first thing you need to do is make an account. Go to the website of CEX.IO and find the register button. Afterwards you will be presented with different options of writing your email and a password. This is the safest choice. Otherwise you can also use your already existing account on Facebook, Google, vKontakte, or GitHub. Once you are done with the registration, you will have to do a verification via email.
After you first log into the platform, you will see that the system is asking you to activate the 2FA. It is recommended to do so. Actually you should have one for all of your accounts online.
You will start off with a basic account which limits your deposit and withdrawals. If you would like to remove those, you should definitely go through the identification process. Once your account becomes Verified, you will be able to access all features and the limitations will be lifted.
Depending on where you are located, you might be required to have a Verified account in order to make withdrawals. The whole process is quite quick and safe since the information is encrypted and safely stored. The procedure is also in compliance with KYC and AML regulations. You will be required to provide your full name birthdate, address, tax ID/SSN, government ID/Passport/Drivers License, proof of address document and a photo of yourself with your ID or credit card.
The company usually works fast, so you should get your verification in no time. Once that's done you should move to funding the account by making a bank transfer or using CryptoCapital or your credit card. The fastest option is the latter, although it comes with some fees. After that you will be able to buy crypto.
Margin Trading
You will also be able to do trading on margin with CEX.IO. Not all platforms offer that. This would mean that you would borrow broker funds in order to be able to control a larger position. This is an approach with high risks and is used by only knowledgeable traders. You are offered 1:2 and 1:3 leverages on BTC/USD, BTC/EUR, ETH/BTC and ETH/USD pairs. You have to pay an opening fee of 0.2% on margin trades and 0.01% for rollover.
Limits of the Deposits and Withdrawals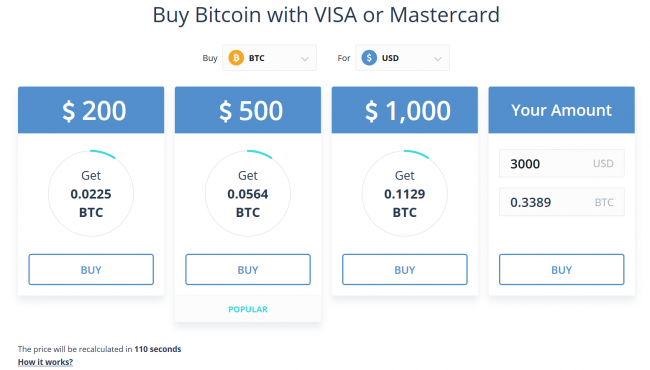 Depending on the level of verification that your account has, you will meet different limits of deposits and withdrawals. If your account is basic, you will be allowed to only use credit cards and be limited to $1,000 daily deposits and $3,000 monthly withdrawals.
Once you verify your account you will be allowed to use bank transfers as well and the limits will become $3,000 per day for deposit and $30,000 per month for withdrawals.
Verification is an easy process as already described above – it takes less than 15 minutes.
Verified Plus
You can also opt for a "verified plus" account and in this way you will have unlimited deposits and withdrawals.